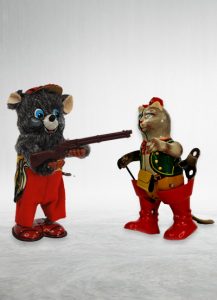 About The Company
Uncle Al's Toys offers a wide variety of goods and services primarily to the vintage, antique and collectible market. We specialize in:
Vintage and antique tin and pressed steel toy restoration and replacement parts
Vintage and antique toy repairs of battery-operated and wind-up mechanisms
Vintage and antique toy sales
Custom creations and special limited edition replicas
We also offer other related goods consisting of collectible art, vintage transportation collectibles and links to our network of collectible professionals.
Uncle Al's is a family owned and operated business and all work performed is in house.
Our experience includes: bicycles, automobiles, cast iron banks, pressed steel toys, multimedia model kits, vintage board games, pedal cars, vintage lamps and fiber optics, Cameo dolls, gas pumps and vending machines, wood repair/hand carving and much, much more.
The Toy Box
I started my own handyman business in 1990 and over the years I became a skilled furniture maker and hand carver. My abilities with all of these diverse occupations has given me a wealth of experience and knowledge and I've developed techniques that I've been able to use in the repair and restoration of the toys I love.
The primary goal of this site is to offer fine quality vintage toys of all kinds and subjects and to be a new and helpful resource for collectors and lovers of toys to obtain impossible to find parts or links to people that can help.
With regard to my restoration services and techniques, I strive to use original parts from 'donor' toys as much as possible. Being a collector myself, I understand that authenticity is the key determining factor with regard to the intrinsic value of the toy. Also knowing that there is a broad spectrum to the levels and expectations of the hobby, I pride myself in being able to cater to all and draw from a wide variety of sources for authentic parts and incredible reproductions.
My career has been based on the premise of quality and excellence, and that is all that I wish to offer you here. Please enjoy the site and visit often!
This Is Me:
My name is Al VanNatta, and though I hate to admit it, my professional career has spanned nearly five decades. In my youth, I started out working after school and weekends at a local gas station pumping gas and learning about cars.
I grew up during the 'muscle car' era and grew to love hot rods of all kinds with a special love of Mopar (Chrysler products) and became an avid plastic model builder.
In my early 20's, I was introduced to the aircraft industry and took to it immediately. I was mesmerized and awestruck working in the large manufacturing facilities of McDonnell Douglas, working as an airframe mechanic on DC-9/DC-10 aircraft in Long Beach, California. My stint in aviation lead me to working on the prototype 117 Stealth aircraft for Lockheed, the F/18 Hornet for Northrop and finally ending up in the heat transfer division of Allied/Signal Aerospace where I became a sheet metal fitter/fabricator and a certified TIG welder. I was exposed to working with a host of exotic metals and composite materials that are still considered 'cutting edge' to this day.
Follow our blogs to get useful tips and tricks from Uncle Al's Toys.