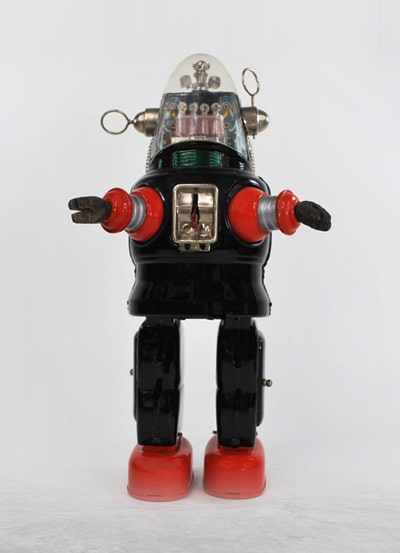 *As of August 1, 2022, toy repairs will resume on a first come first served basis.*
This Is How It Works:
All work is performed on a first come, first served basis and rates start at $95 plus parts and return shipping. This rate should be taken into consideration when requesting quotes for repairs. Most simple repairs are completed in as little as on week. Depending on the nature of the repair, additional time may be required when searching for original replacement parts and/or fabrication and creation of same.
The term 'Restoration' can be defined differently by the standards of each collector. A toy of extreme intrinsic value, may require the original replacement part or the reproduction replacement part to be 'patina aged' to compliment and blend with the overall condition of the toy. This is not a simple technique. It takes time and I don't rush these kinds of repairs. The excellence MUST be there when I finish.
When I perform repairs to some of the newer 1950's, 60's and 70's tin litho toys, I remove any contaminants from the mechanisms that inhibit the smooth operation of the toy or otherwise detract like heavy excesses of dust and grime.
I offer a complete cleaning service (additional charges may apply) to bring the toy back to shiny, new condition. I have also developed a technique for repairing plastic battery operated and wind up toys like all of the Marx space guns and rifles as well as the Irwin 'Spaceman' wind up and 'Whistling Boy'.
My repairs are invisible and nearly flawless. Some toys with extreme cracks may not be helped but can often times be repaired and turned into unique, 'one of a kind' creations. As the site develops, you might see me get a little crazy!
If I'm presented with a repair that I feel is beyond my capabilities, I will inform you of that fact immediately and try to put you in contact with the most qualified individual available. I do this at no cost as my ultimate goal is your complete and total satisfaction.
Contact us today to check out our Best Vintage Toy Collection and Antique Toy Restoration and Sales.