Vintage Remote Control Toys
The holidays are just around the corner and for many people, it is time to buy gifts for family members. If you are looking for a gift that will please both kids and parents, then consider buying remote-control toys. Remote control toys are a great option because they are fun to play with and they offer parents a way to spend quality time with their children. In this guide, we have compiled a list of the coolest remote-operated toys that you can get as a gift for your kids or your friends' children from Uncle Al's Toys Store. We have also provided some basic product information so that you will know what to expect when you open them.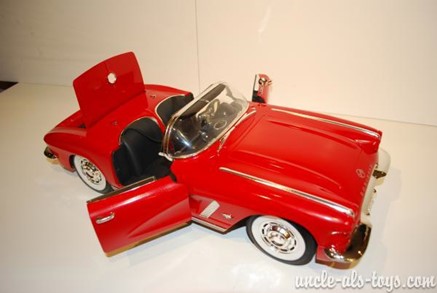 1962 Corvette Remote Control Pocher: Toy car is the first love of every child, and we have a remote control toy car to make your child go crazy. Have a look at this large 20″ long 1962 Chevrolet Corvette remote control car with opening doors, working headlights, taillights, an FM radio, and custom automotive paint finish in true GM colors.
With the help of remote control, the car moves forward and reverse, with left and right steering and the lights and radio operate from micro switches on the console. To learn more about its unique features, please click here.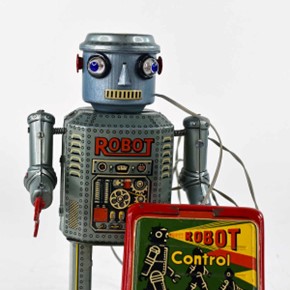 Linemar R-35 Robot with Remote Control: If you want to boost creativity and innovation in your child, then here we have a remote control robot to help you in your efforts. A vintage Linemar R-35 Tin Robot is battery operated remote control with wonderful action. It can move from side to side forward and backward, the arms swing, and the eyes light up. To order online, please click here.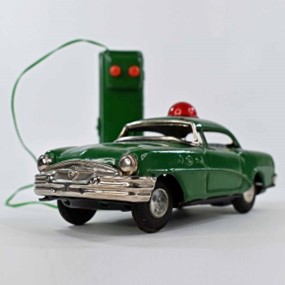 Marx Linemar Buick Police Car: This is a 1950s Marx Linemar Buick Police Car in excellent original condition. This toy features a corded, two-button remote control and requires 2 'D' cell batteries. This police car at Uncle Al's Toys store is surely going to give your child a career-goals. To leaner more about the Marx Linemar Buick Police Car, please click here.
Order Now – Remote Control Toys
If you are a parent, you know how hard it is to find the coolest remote control toys at affordable rates. Usually, remote control toys are expensive; but at Uncle Al's Toys Store, you can buy these unique and antique remote-operated toys at the best rates. We have put together a list of remote control toys for parents who want to find the perfect gift for their kids this holiday season.
Along with the remote control toys, we also have many different types of antique and vintage toys to meet your expectations. We have diecast toys, transportation toys, toy robots, battery-operated toys, and more. To browse through the collection of amazing toys at Uncle Al's Toys store, please visit https://www.unclealstoys.com/shop/.
You can like us on Facebook and follow us on Instagram to receive interesting toys related updates on your timeline.