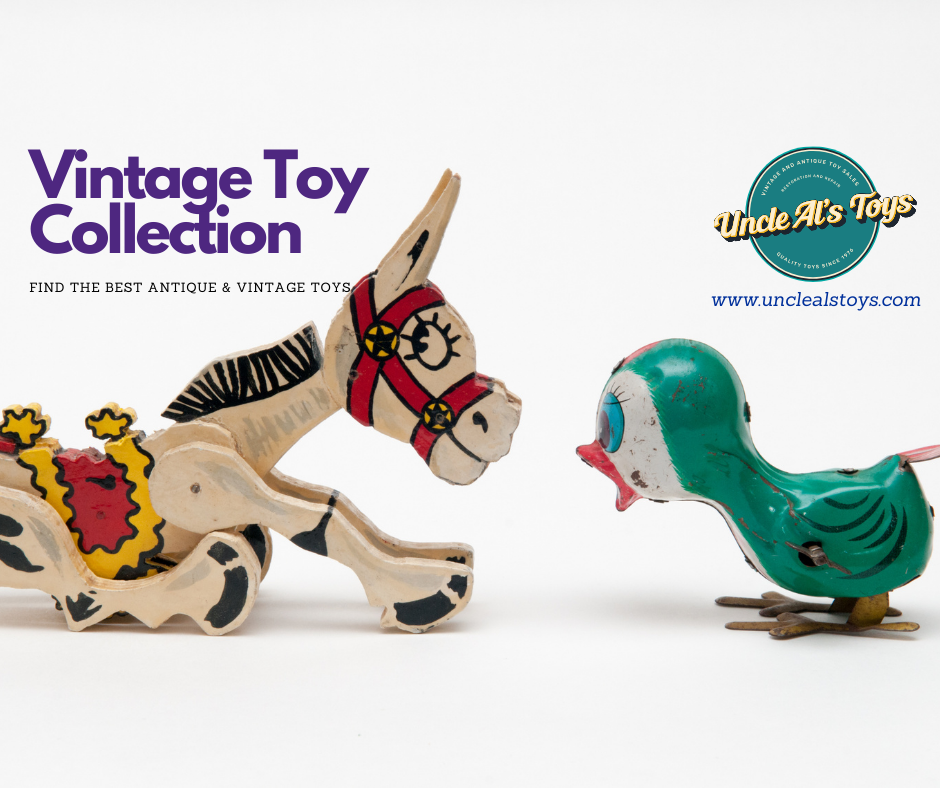 There are a number of reasons why vintage toys and antique toys are great gifts for your child. They offer benefits that modern toys cannot provide. They have the ability to stimulate creativity, promote social skills, and improve cognitive development. Moreover, antique and vintage toys are also a great way to teach children about history and culture. If you are looking for a vintage toy collection or an antique toy collection, then Uncle Al's toys store is worth visiting. Being one of the oldest and most reputable, online toy stores, here you will find some of the gems among the vintage toys for your child. To have a look at the vintage toy collection and antique toy collection, you can visit Uncle Al's Toys Store.
Antique Toy Collection at Uncle Al's Toys Store
Antique toys are the perfect way to bring a bit of nostalgia into your home. They are also a great investment for those who want to make their money work for them. But what is an antique toy? Antique toys are old toys that were made by hand and have aged well. These toys are often more expensive than new ones because they have more value due to their age and rarity.
A lot of antique toy collectors buy these items because they want to preserve their memories from childhood or from their grandparents' childhoods. There is also the thrill of finding rare, valuable items in an antique store or garage sale that you can sell for a profit on the internet. At Uncle Al's, you will find antique toys of different categories. From antique cars, antique aircraft, antique animals, and more. If you are interested Antique Toy Collection for one of other reasons, then we invite you to explore the options at Uncle Al's Toys Store.
Vintage Toy Collection at Uncle Al's Toys Store
A vintage toy is an old toy that has been manufactured in the past. These toys are typically made of wood, metal, or plastic. The age of these toys' ranges from decades to centuries. There are many benefits to buying vintage toys for your child or even for yourself. You can have a better understanding of the history behind the toy, and you can also have a better connection with your child by playing with them using these old-fashioned toys.
First, by purchasing a vintage toy you can understand the history behind the toy. For example, if you purchase a wooden toy truck that is decades old, you can learn about how people used to play with toy trucks in their own childhood and what toys such as these trucks were used for. If you purchase vintage toys, then you not only get to own a piece of history, but you also get to find out about what other people are doing with these toys. I think it is really valuable for children to be able to play with vintage toys.
If you want your child to play with a vintage toy having an interesting historic story, then have a look at Uncle Al's Vintage Toy Collection today.
Car Toys Collectors
If you are looking for car toy collectors, then you should check out Uncle Al's Toys Store – we are among the top Car Toys Collectors in the USA. We have a wide range of vintage car toys that will make your child's day.
Vintage car toys are a great gift for children who love cars and are old enough to play with them. These toys come in various shapes and sizes and can be used to play on their own or with other kids. Kids ages 3+ would love a vintage car toy. This toy is great for toddlers and has the look of the late 60s or early 70s. It will be loved by kids who love cars. It features a moving metal propeller that makes funny noises when pushed down on.
Toys Repair and Restoration Services
At Uncle Al's Toys Store, you not only get a chance to buy vintage toys and antique toys at the best rates, but you can also contact Al and Tina for antique toy restoration and repair services. Whether you have a vintage toy, an antique toy, or a toy that is missing a part, Al and Tine can repair and restore any damaged toy.
To learn more about toy repair and restoration services, you can contact us at https://www.unclealstoys.com/contact-us/. You can also like us on Facebook and follow us on Instagram to get playful updates related to the toys industry.
Checkout some of our cool products: