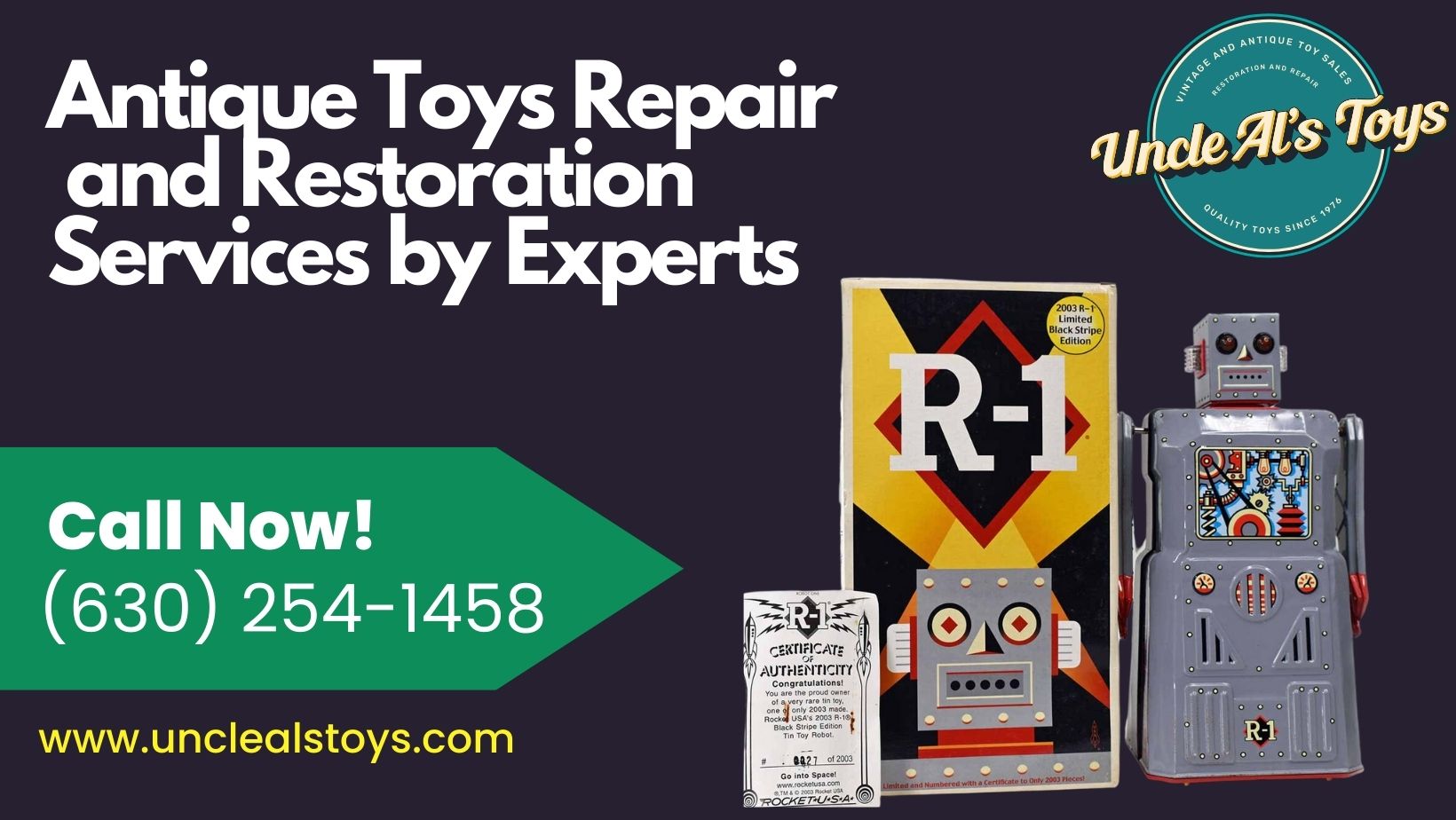 Antique toys are expensive, and a lot of times, the toys will break, and then it is hard for collectors to justify buying another one for their collection when they just spent so much on the first one. Fortunately, there is a solution to this problem as well. Antique toy repair and restoration service experts can often fix broken or damaged toys or provide collectors with modest skills an online source for quality restoration and repair parts. This can help collectors save some money while also keeping themselves happy with their favorite toy choice!
Uncle Al is an online toys store that offers highly affordable and professional antiques toys repair and vintage toys repair & restoration services across the US. They not only deal in toy repair services, but you can also sell or buy antique and vintage toys from here. To browse through the collection of vintage and antique toys and vintage toys, please click here.
Blog You Will Love to Read: 5 Best Loved Vintage Toys You Can Buy Online
What Are The Benefits Of Antique Toys Repair Services?
There are plenty of benefits of antique toy repair and restoration services, but the most favorable is it saves you money and keeps your collectors happy. Collectors love their toys and get emotionally attached to those toys they played with as a child. And, when the toy is damaged for some reason, it makes them sad and anxious. Professional toy repair services not only save you money but also brings joy back to the collector.
Another benefit of using antique and vintage toy repair services is that they can save you from stress. It can be difficult and time-consuming trying to figure out what to do with your old toys that are broken or have worn out. However, Uncle Al's Toys can help guide you through the decisions and plot the best course of action.
Best Vintage and Antique Toys Repair and Restoration Services
At Uncle Al's Toys Store, antique and vintage toy repair and restoration services offered are affordable and often have quick turnaround times. Uncle Al's Toys has a vast array of specialty tools and often employs the same techniques used when your antique toy was new. Antique toy restoration and vintage toy repair by Uncle Al's toys store also provides a level of convenience that some people may not be able to get otherwise. If you live in an area where there are no toy stores nearby, then it's convenient to be able to order something online and have it shipped right to your door. Uncle Al's Toy Repair Services will help in,
Fixing toys that have been broken for a long time
Fixing toys that are not broken but still need some work done on them
Fixing or advising action regarding any type of toy, no matter how old it is
Lastly and most importantly, there is the peace of mind that comes with knowing your collector's favorite toy will always work properly again if it breaks down.
Vintage And Antique Toys Repair and Restoration Services We Offer
Uncle Al's Toys offers a wide variety of goods and services primarily to the vintage, antique and collectible market. We specialize in:
Vintage and antique tin and pressed steel toy restoration and replacement parts
Vintage and antique toy repairs of battery-operated and wind-up mechanisms
Vintage and antique toy sales
Custom creations and special limited-edition replicas
We also offer other related goods consisting of collectible art, vintage transportation collectibles, and links to our network of collectible professionals.
Uncle Al's is a family-owned and operated business and all work performed is in-house.
Our experience includes repairing toys like:

Bicycles and automobiles
Cast iron banks
Pressed steel toys
Multimedia model kits
Vintage board games
Pedal cars
Vintage lamps and fiber optics
Cameo dolls
Gas pumps and vending machines
Wood repair/hand carving and much, much more.
Learn More About Vintage Toys Repair and Restoration Services
Do you have broken or damaged vintage or antique toys? Do you want to fix it at affordable rates? Well, then it's time to contact Al and Tina at Uncle AL's toys store. From selling vintage and antique toys online, Al and Tina are known for offering highly professional and timely antique toys repair and restoration services that bring a smile to the faces of collectors and kids alike.
To learn more about vintage toys and repair services, please visit https://bit.ly/3bn83G1. You can also like our Facebook page to get daily updates on toy repair and discounts during the holiday season. We are also present on Esty.
Checkout Our Top selling Vintage Toys