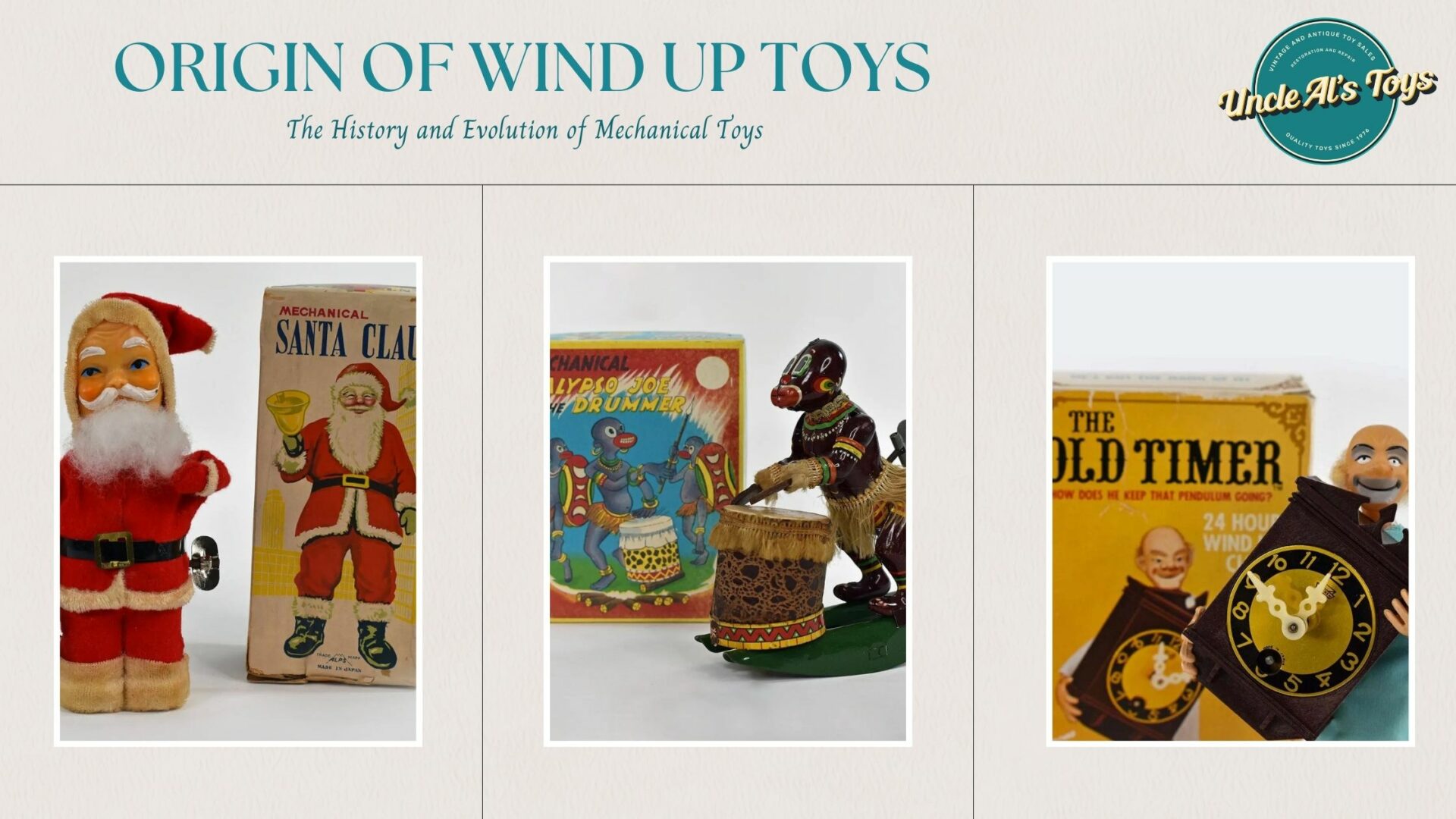 Wind up toys are fascinating mechanical wonders that have captured the imagination of generations of children and adults alike. From simple clockwork to modern wind-up toys, mechanical toys' evolution showcases ingenuity and innovation. Everyone of us will have at least one wind up toy in the childhood, and we loved to play with it for hours. In this blog, we will take a look at the history and evolution of wind up toys, from their origins in ancient civilizations to the modern-day.
Origin of Wind-up Toys
The origins of mechanical toys can be traced back to ancient civilizations such as Greece, Rome, and China. In Greece and Rome, toys were often made of wood or metal and were powered by simple mechanisms such as springs or weights. The Chinese, on the other hand, were renowned for their intricate automata, which were powered by water and used to entertain emperors and nobles.
During the 16th and 17th centuries, clockmakers began to experiment with intricate mechanisms, which they used to power music boxes and automatons. These clockwork mechanisms paved the way for the development of wind-up toys as we know them today.
The first wind-up toy appeared in Europe during the 18th century. These wind-up toys were often made of metal and were powered by simple clockwork mechanisms. One of the most popular types of wind-up toys during this time was the automaton bird, which could flap its wings and sing a tune when wound up.
In the 19th century, advances in manufacturing techniques and the invention of the steam engine led to the development of more sophisticated wind-up toys. These toys often featured intricate designs and were made from materials such as tinplate and celluloid.
The early 20th century saw a boom in the popularity of wind-up toys, thanks in part to the rise of mass production techniques. Companies such as Schuco and Lehmann produced a wide range of wind up toys, including wind-up toy cars, wind-up toy planes, and wind up toy animals. Wind up toys became a staple of childhood play and were enjoyed by children all over the world. Kids of all age loved to play with a wind up toy.
Wind up Toys Today
Today, wind up toys continue to be popular with children and adults alike. While many modern wind up toys are made from plastic rather than metal, they still feature intricate designs and clever mechanisms. Some modern wind up toys even incorporate electronic components, adding an extra layer of complexity to their designs.
In conclusion, wind up toys are a fascinating example of human ingenuity and innovation. From ancient civilizations to modern wind-up toys, mechanical toys evolved to be functional, beautiful, and entertaining. Regardless of age, watching a wind-up toy come to life remains a magical wonder that captivates us for generations.
Top Wind up Toys at Uncle Al's Toys Shop
There are many online stores as well as physical toy stores nearby where you can easily buy a wind up toy for your child. However, if you are a toy collector and want to add an antique wind up toy to your collection, then visit Uncle Al's Toys Shop, today.
Here are the top and most sought-after antique wind-up toys at Uncle Al's Toys Shop just for you:
1930's Strauss Tin Litho Inter-State Bus Wind-up (Green):
It is an Inter-State Bus wind up bus produced by the Ferdinand Strauss Company of New York.
Carnival Shooting Gallery by Ohio Art Tin Wind Up Toy With Guns And Darts/Box:
Beautiful full color litho gallery in extremely nice condition and rare to find with two original working dart guns/darts!
Greppert and Kelch Tin Litho Wind-up Car with Driver #548:
This wind up toy car is marked G. & E. and was made in Brandenburg, Germany.
Jenny The Balking Mule Wind-Up Toy by Strauss:
Wind the key and watch the wheels turn, the mule balk and the farmer rock back and forth.
Lehmann Brandenburg Dancing Sailor Wind-Up Toy:
Made in Germany between 1904 and 1948, a Lehmann Brandenburg Dancing Sailor wind-up tin toy in good, fully working condition.
Space Whale Ship, St. John Toys, Mechanical Wind Up:
Space Whale Ship is a windup toy that will open its mouth and tail and fins move during operation.
Well, the above-mentioned are a few of the top-rated wind-up toys at Uncle Al's Toys Shop. Discover various antique and vintage toys online – click here.
Uncle Al's Toys Shop is a top online destination for toy collectors to purchase vintage & antique toys for their collection. Here, you will find amazing vintage toys in the best conditions at affordable prices. At Uncle Al's Toys Shop, find all battery-operated, remote-controlled, wind-up, and plush toys in one place. It is the one-stop destination where you can find an amazing vintage toy collection.
If you love playing with toys (especially vintage and antique toys), then visit Uncle Al's Toys Shop today. You can also like our Facebook page and follow us on Instagram to receive interesting toy facts on your timeline.
Also, read our latest blogs: