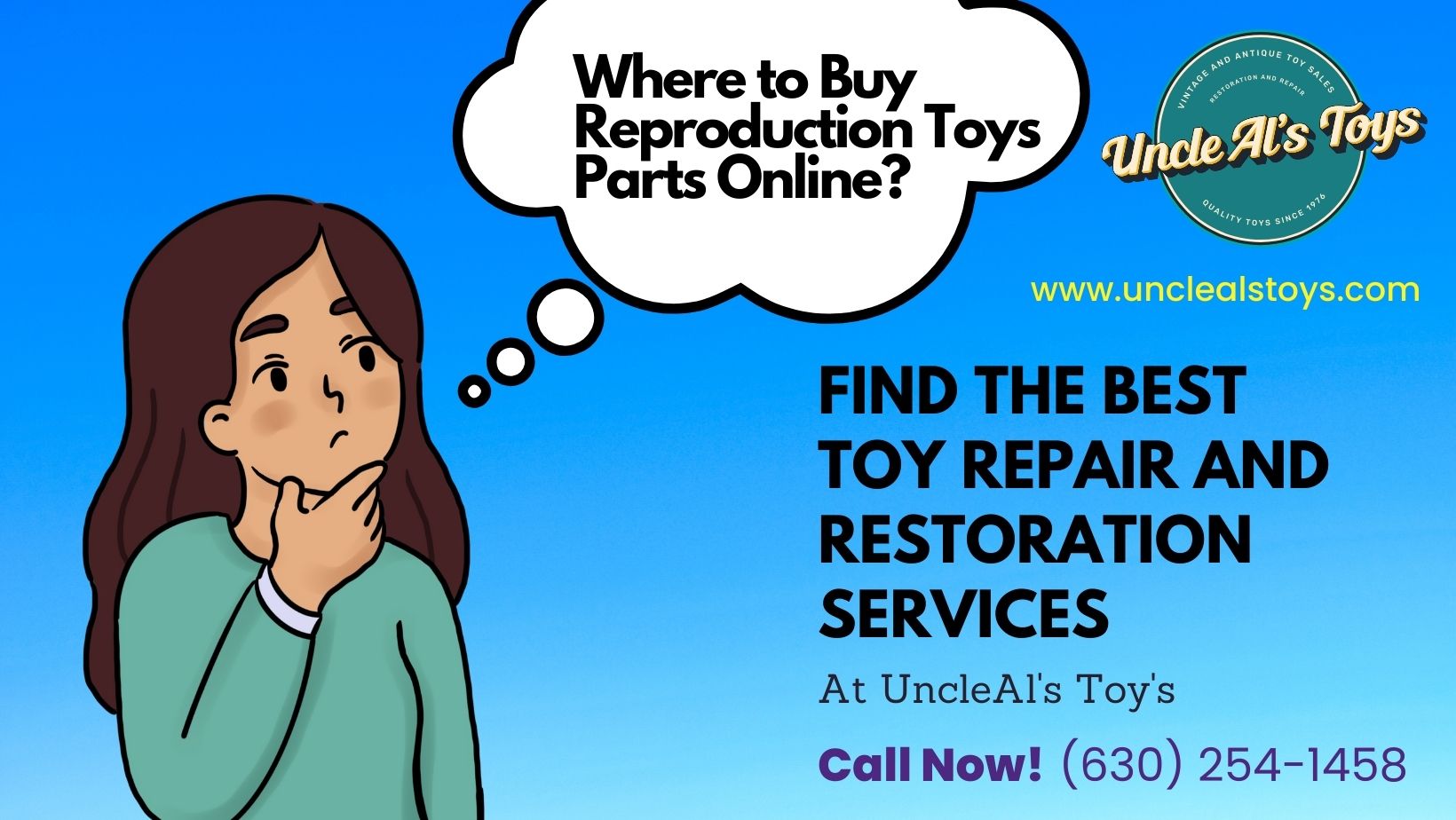 Do you have a collection of damaged/broken vintage toys, antique toys, or mechanical toys? Are you looking for someone who can repair and restore them
to the fullest? Well, then it's time to end your search at Uncle Al's toys store. We are one of the finest toy shops in the US where you can buy vintage toys
and antique toys at affordable prices. Not only do we deal in buying and selling vintage and antique toys, but we also offer services for Reproduction Toy Parts.
across the US. Thus, whether you want to repair your old toys or want reproduction toys parts online, contact us today.
Blog You Will Love to Read: 5 Best Loved Vintage Toys You Can Buy Online
Uncle Al's Toys Store – Best Vintage Toys for Sale
Among plenty of online toy stores in the US, Uncle Al's Toys Store is the most unique toy store. Here, you will find some of the best vintage toys for sale at affordable prices. From Steam powered toys to Battey Operated Toys, and from Diecast Toy Vehicles to Antiques Toys, you will easily find something that will satisfy your taste buds and bring a smile to the face of your child.
At Uncle Al's Toys Store, you will not only find the best antique toy collection and vintage toy collection, but you can also buy reproduction toy parts online and get them delivered to your doorsteps. Whether you need vintage toy replacement parts or any mechanical reproduction toy part, Uncle Al's toys store won't let you down. We also manufacture custom toy replacement parts for our clients as per our client's request. Interested in having a look at an amazing collection of vintage toys, antique toys, and mechanical toys online? Please visit Uncle Al's Vintage and Antique Toys Store.
Reproduction Toy Parts Online
There are plenty of online toy stores and retail toy stores nearby where you can buy unique and antique toys. But very few toy stores deal in reproduction toy parts. Uncle Al's Toys Store is among the top-rated toys store where you can buy vintage toy replacement parts and reproduction toy parts at affordable parts. The best part of visiting Uncle Al's Toys Store is that if you can't find a replacement part online, they will custom make the toy parts as per the specification. This means toy repair and restoration are assured at Uncle Al's Toys Store, US. For more information about our "Toys Repair and Restoration" services, you can call us at (630) 254-1458. You can follow us on Instagram for frequent updates on discount offers and our toy repair services.
Buy Vintage Toys Online